CrossFit Wild South Junior High Program
The CrossFit Wild South Junior High Program is for 10-14 year olds and utilises activities that your child naturally enjoys and provides an environment that is safe, fun and energetic.
Our Program uses a combination of skill practice, workouts and games to develop strength and conditioning in children, in a safe and fun way.
CrossFit Wild South aims to improve the quality of life for all our members, our goal is to help children become the best possible version of themselves. We are committed to teaching children to become successful leaders while also promoting the importance of health and fitness in a safe and positive learning environment.
CrossFit Wild South Junior High makes fitness FUN. In addition to learning new skills, you will notice your child makes better food choices, has greater confidence in themselves and their abilities, is more focused in school, transitions to new sports more easily, and can hep reduce risk of sport-related injury.
Here is a quick overview of what you and your child can expect:
The CrossFit Junior High classes begin at 4:30pm and will run for 45 minutes. Each session begins with an introduction to familiarise each child with the program for the session and expectations for the session. We then have a warm up consisting of games and activities to prepare them for the skills and workout portion that follows. Often a game will close out the session
Some of the key skills your child will be taught;
The CrossFit Junior High Program will introduce your child to the 10 General Physical Skills, something that CrossFit is based on. These skills are the foundation for any sport or discipline your child may pursue. Improvement in each of these physical capacities will directly lead to your child having an increased ability to learn and succeed in other sports.
The 10 General Physical Skills
1. Cardiovascular Endurance – Can you get enough oxygen to your body?
2. Stamina – Can you get enough energy to your muscles?
3. Strength – How much can you lift?
4. Flexibility – Can you touch your toes?
5. Power – How much work can you do in the least amount of time?
6. Speed – How fast can you go?
7. Coordination – Can you pat your head and rub your stomach?
8. Accuracy – Can you kick a soccer ball into the net?
9. Agility – How quickly can you change direction?
10. Balance – Can you stand on one foot? With your eyes shut?
How to get Started
All you need to do is call us on 0800 788 4537 or email to info@crossfitwildsouth.com and we will get you booked in.
—
Payment
To confirm your place please make online payment to:
Bank: ASB
Account number: 12 3154 0122426 00
Reference: Your name
Note: CrossFit Junior High Program booking is not confirmed until full payment is received.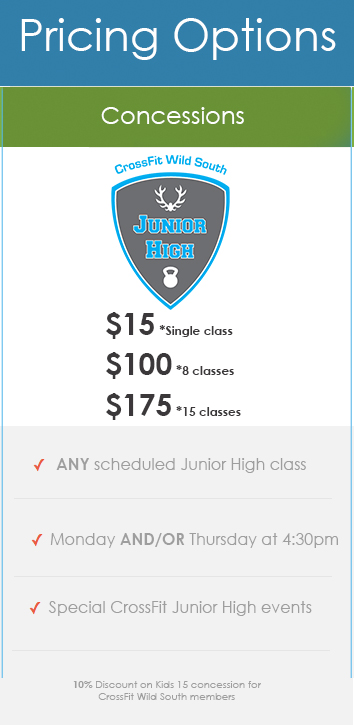 See you at the 'BOX'
Your CrossFit Wild South Coaching Team
———–
What to Bring
Your child needs to be comfortable when participating in the CrossFit Junior High Program.
Suitable clothing is a must, shorts/tights and t-shirt/singlet with a hoodie/warm top available would be a good minimum standard for the activities.
Wear suitable shoes, bring a towel and a drink bottle.
Your child will also need to ensure they have had some afternoon tea prior as this is not provided.
Some quick terminology
– 'WOD' stands for Work Out of the Day, this changes daily.
– 'BOX' this is where we train, we are not a gym.
– 'AMRAP' stands for 'As Many Rounds As Possible' in X amount of time.
– 'RX' means 'as prescribed', so to RX a workout means to do as written, i.e. lift 16kgs, complete 10 reps (=repetition/rounds).
– 'MODIFIED or SCALED' means not 'RX'd'
Expectations
Your child will be booked for the classes you choose.
Please ensure they turn up on time.
Your child will be required to work and listen to our coaches.
Encourage others.
Have fun.
Collect your child on time at the end of each class.
The Crew
CrossFit Wild South is also about the community spirit, when you join us you become part of our 'Crew'. Everyone supports and encourages each other in every class that we do together, we take this community spirit into the CrossFit Kids classes as well.
Is my child able to join the classes?
Everybody starts at different levels, our job is to make your child better whether they are a beginner or an elite athlete. We do not expect your child to do exercises that they physically or mentally cannot perform. Our CrossFit Junior High Program can be modified to a level that is achievable but will also get challenge the child enough to make it rewarding and fun.
After the CrossFit Junior High Program, you child may continue with a CrossFit in our Teens program. If your child wishes to continue with CrossFit after this Junior High Program, please make it known to us by contacting us to discuss info@crossfitwildsouth.com
CrossFit Kids
CrossFit Wild South Kids holiday program agility course – a fun, exciting and educational way to develop fitness


What's CrossFit like at CrossFit Wild South?
Check out the video from the 'Bring a Friend' promo held in October 2013. Note: Class sizes are normally 5 – 12 people.
[facebook-like-button]
© 2013 CrossFit [INH] Ltd