Have you ever wondered what your CrossFitting friends are on about?
Have you ever thought about giving CrossFit a go and said, "I'm not fit enough for that!", "Wow that looks really hard!" or "I couldn't possibly do that!"
Well here is your chance, because those thoughts are simply not true! Anyone can do CrossFit here at CrossFit Wild South.
We have members that transcend a wide range of ages, fitness and lifestyle backgrounds. Some as young as 7, while others are older than 65.
CrossFit is not just about fitness. It is also about the community, the members… you.
CrossFitters are like-minded people working together with highly skilled and qualified CrossFit coaches in a safe, positive and supportive environment towards their fitness and lifestyle goals.
Bring a Friend is where you come along with your friend and get to experience a taste of what CrossFit can do for you.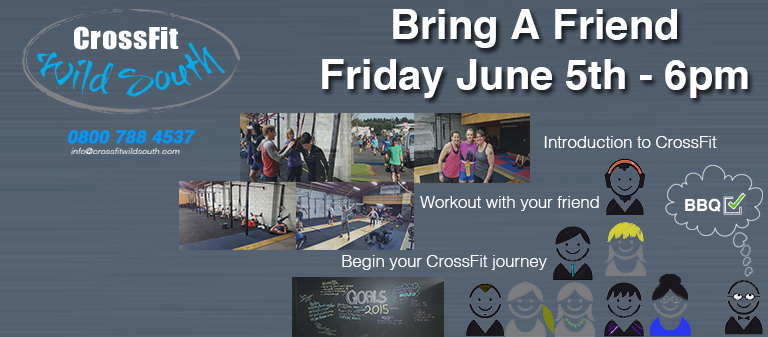 How to get Booked in with your friend
All you need to do to secure your place is click HERE and complete a few fields to register.
If you have a few more questions, call us on 0800 788 4537 or email to info@crossfitwildsouth.com and we will help you.
See you at the 'BOX'
Your CrossFit Wild South Coaching Team
———–
Am I good enough to join the classes?
Everybody starts at different levels, our job is to make you better whether you are a beginner or an elite athlete. We do not expect you to do exercises that you physically cannot perform, so we design our workouts so they can be modified to a level that is achievable, but will also get you the fastest results. So… wherever you are at right now, don't worry! Its going to get better!
What to Bring
You will need to be comfortable when working out. Workout clothes are a must.
Wear suitable shoes, bring a sweat towel and a drink bottle.
If you haven't completed a Box Waiver Form you will be required to fill one out before you start.
Turn up 10 minutes early to fill in the Box Waiver Form. Or download it here and bring it in completed.
CrossFit Wild South is also about the community spirit. When you join us you become part of our 'Crew'. Everyone supports and encourages each other in every class that we do together. Our Saturday WOD class is followed by Paleo food and good coffee. The buy-in is to do the workout before. Bringing a plate is welcome, but optional.
Where are we based?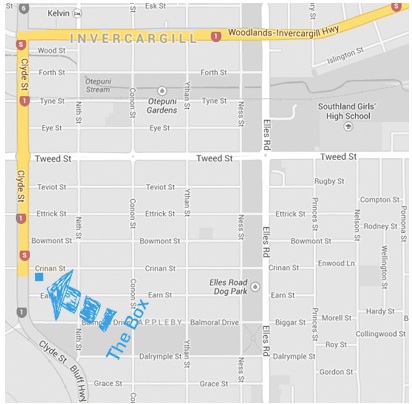 After the Bring a Friend class, to continue CrossFit with us you will need to complete our Starter Series, a brief outline is below but for full details click HERE
We invite you to start your own CrossFit journey by joining us on our next Starter Series, after which, where we are running a special.
We are offering you an entire month of CrossFit for the reduced price of $150. 
SPECIAL PRICE
$150
This includes your Starter Series, a 2 week introductory program to CrossFit to ensure that you receive the best possible start to your journey:

The special price includes access to all CrossFit and Mobility sessions once the Starter Series is complete.
All you need to do is call us on 0800 788 4537 or email to info@crossfitwildsouth.com and we will get you booked in.
The starter series is where we teach you the key foundation movements of CrossFit of which you will need to know to be able to move into the mainstream classes.

Here is a quick overview:
Our Starter Series will run over 4 X 1 hour classes along with attendance at our 9am Sunday mobility sessions that while not compulsory, is highly recommended.
After completing the Starter Series, you will be free to attend all scheduled CrossFit, Mobility and Skills classes for the remainder of the month.
At the completion of this first month we have a Special Membership option available for you to continue on with CrossFit that we will discuss with you during this first month.
(We have alternative options if those time slots do not suit, please discuss with us)
The movements taught are as follows:
Starter 1: Hollow Position, air squat, front squat, over head squat
Starter 2: press, push press, push jerk, thruster
Starter 3: deadlift, sumo deadlift high pull, barbell clean, med ball clean
Starter 4: kettlebell swing, kettlebell snatch, kness to elbows, pull ups
Mobility Classes: Learning the importance of stretching and recovery
You are also taught cueing and CrossFit terminology so you know when to move and what things like a 'AMRAP' or 'WOD' means.
As your starter series unfolds, you are most welcome to attend the Sunday mobility / stretch sessions each week during the series at no extra cost. Aside from getting the benefits of stretching and general mobility this is a good opportunity to meet the rest of the CFWS CrossFit community, which we refer to as the 'Crew'.
The special price includes access to all CrossFit and Mobility sessions for the remainder of the month, once your Starter Series is complete.
Does this sound like you?
Pricing
The special price is only $150
How to get Started
All you need to do is call us on 0800 788 4537 or email to info@crossfitwildsouth.com and we will get you booked in.
Payment
To confirm your place please make online payment to us and then flick us an email:
Bank: ASB
Account number: 12 3154 0122426 00
Reference: Your name
Note: Starter series are run on demand.
If you are unsure on what option to take contact us to discuss info@crossfitwildsouth.com
What's it like
at CrossFit WildSouth?
Check out the video from the 'Bring a Friend' promo held in October 2013. Note: Class sizes are normally 8 – 12 people with 1 main Coach and up to 3 within the class.
CrossFit
Letting Beauty Speak Up

[facebook-like-button]
© 2013 CrossFit [INH] Ltd