Jun 28th, 2019
Author:
Stacy McNaught
The FNL 19. 1 Challenges are here…
We have a couple of ripper challenges for you to sink your teeth into, but first, remember that it is not too late to register for 19.1 as you can still contribute to your points with the classes you do. But registrations will CLOSE on Wednesday 3rd July at 8pm.
For those still not sure what it is all about, read on – for those that are all over it already, skip down a few blocks to see the challenges.
Friday Night Lights is CrossFit Wild South's Annual in-house Community Event that has individuals and teams using their fitness to compete against each other in various physical, mental and lifestyle challenges to accumulate points to win prizes.
This year, competing as individuals, points are accumulated in the period prior (fortnight) to each Friday Night Workout Event, by completing various physical, mental and lifestyle challenges.
19.1 – Friday 5th July, 2019 – Kiwiana Theme
19.2 – Friday 19th July, 2019 – Disco Theme
19.3 – Friday 2nd August, 2019 – Stacy's birthday + Live music = epic community social event
Keep an eye on the WEBSITE for updates and/or the Facebook Event pages for each event (click them above)

This year though, there is a catch;
FRIDAY NIGHT WORKOUT TEAMS ARE SELECTED AT RANDOM ON THE NIGHT.
At each of the 3 separate Friday Night events (19.1, 19.2 and 19.3) the teams are randomly selected from the registered participants and will throw down for more points and glory.
Individual points from the period prior to the Friday Night Workout Events are added to the Team points on each of the Friday Night Workout Events to give an overall winner…
AT EACH EVENT.
That's right, 3 separate events within the whole Friday Night Lights Event.
***NOTES***
Individuals register for any or all of the FNL events, 19.1, 19.2, 19.3. If you are not available for an event, don't register for it.
The Coaches will be putting the teams together for FNL 2019 – randomly selected on the night from all registered participants for that event.
Teams for the workouts will consist of 4 athletes.
ONE Rx athlete will be announced per team to compete in each of the Friday Workout Events and will be named the team Captain for the night.
Workouts will be announced at 8 pm the Wednesday prior to each FNL EVENT.
Entry fee is $10 per person per event, a T-shirt purchase gets you into ALL 3 events.
Think of each fortnight as a separate event, you enter, you play the game, you win or lose…move on to the next period with a clean slate…
Bonus Points
Every year these make a significant contribution to the overall leaderboard, don't underestimate how important the bonus points and challenges are to your team on the night.
Points can be accumulated throughout the period (fortnight) prior to each Event for,
5 points per class for up to 4 WOD classes attended
5 points for attending a Yoga class
5 points for an active recovery session with a Crewmate (walk, run, swim etc)
*Bonus points may change depending on the Event
This is a great way to support each other, get involved in the community and keep your motivation up over the next wee while and get into it!
Event Challenges
During the fortnight prior to each Event, there will be specific challenges for you to complete together (randomly selected) or as individuals. They will be worth points and will play a major role in deciding each of the Event (19.1, 19.2, 19.3) winners.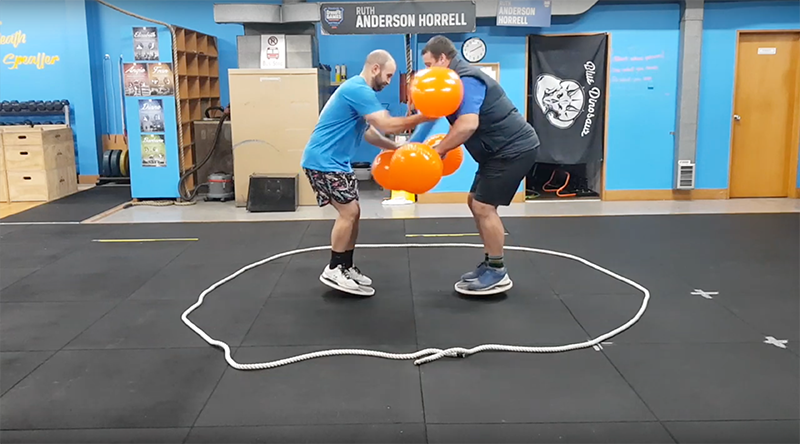 WOBBLE BOARD JOUST TOURNAMENT
Quickfire knockout style tournament.
(…not physically knocked out…)
All attempts must be consecutive with no rest – fall off, get back on again.
Win your best of 3 bouts to progress on to the next round.
NO practice games, get on the board and 3…2…1…GO
Tournament starts 5:30pm Friday July 5th.
The winner will get more points than the not winners, but everyone gets points.
Today's WOD