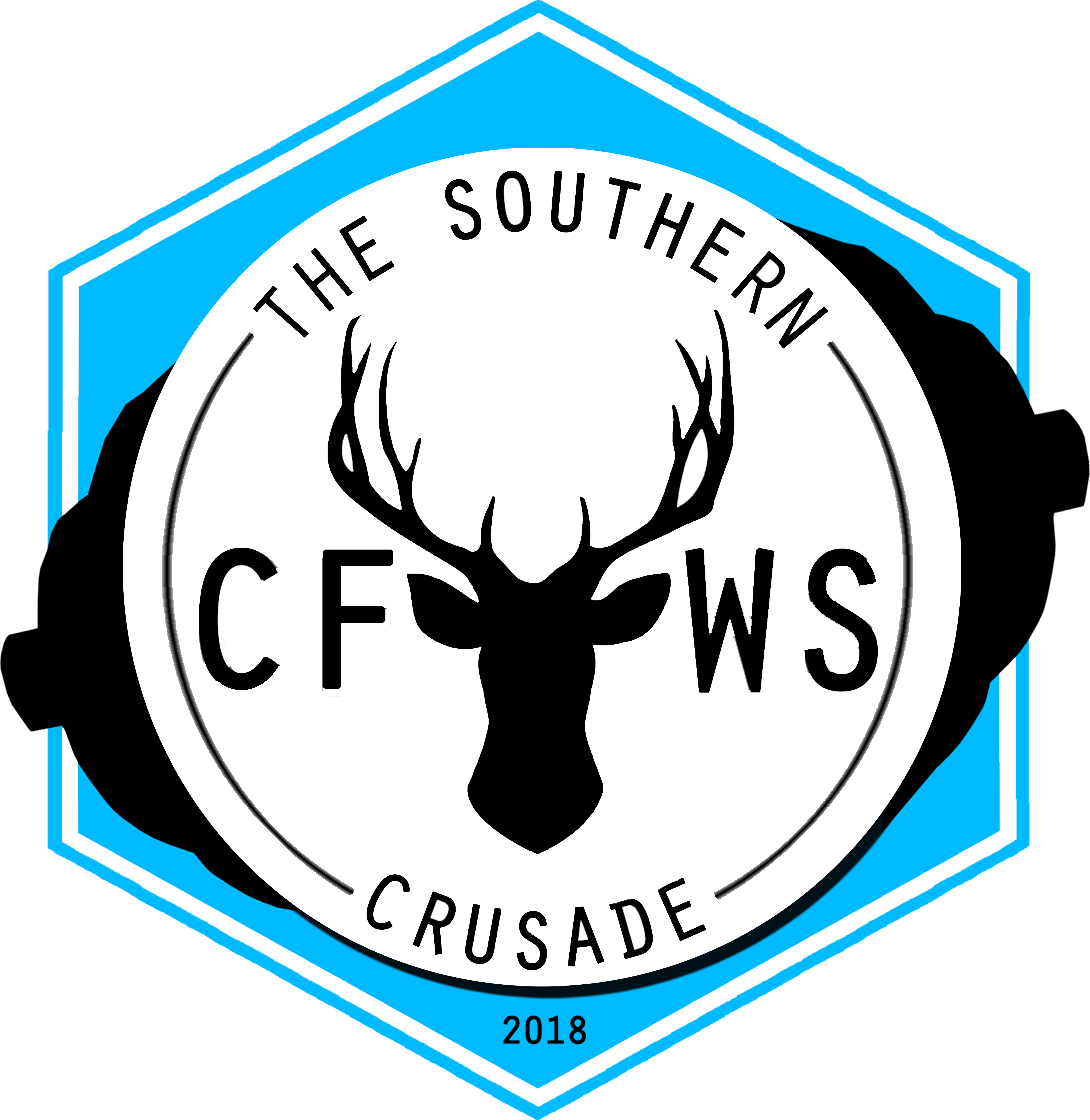 The 2018 Southern Crusade
When:

Saturday 17th (

Teens, Masters,

Rx and Scaled) February
Registration:

7:00 am Saturday 17th February at CrossFit Wild South – 117a Crinan Street


The first event starts:

8:00 am Saturday 17th February


Prize Giving:

From 3:45 pm for all divisions
Where:

CrossFit Wild South,
Invercargill's Home of CrossFit
117 Crinan Street, Invercargill
0800 788 4537
View/Download the 2018 Southern Crusade Athlete Handbook.
What:

Individual Competition comprising of 3 WODS
Male and Female Teens will be split into 2 divisions – 14+15-year-olds and 16 years and over (up to 18 years old)
***Teen division age is your age at the time of the event.
Male and Female Masters – 40 years of age or older at the time of the event.
Rx and Scaled athletes should talk to their Coach/Affiliate owner to determine the most suitable division to enter. As a rough guide, if you compete in the CrossFit Open and do a majority of the WODs as Rx, you would be suited for the Rx division. Similarly, if you compete in the CrossFit Open and require scaling on a couple of the WODs, then the scaled division would be more suited for you.
Saturday 17th February:
Masters Male $45
Masters Female $45
Teen Male $40
Teen Female $40
1st place Prize $100
2nd place Prize $50
3rd place Prize $25
***Prize is cash and/or prizes to the value stated and is for all divisions
Rx Male $50
Rx Female $50
Scaled Male $40
Scaled Female $40
1st place Prize $200
2nd place Prize $100
3rd place Prize $50
***Prize is cash and/or prizes to the value stated and is for all divisions
This event will be a great lead-in to the CrossFit Open giving athletes the opportunity to see where they are at and enjoy a bit of friendly competition!
Registration details:
Registrations for 2018 are CLOSED
Please email us for any late registration inquiries. info@crossfitwildsouth.com
Apparel $30 – orders for 2018 CLOSED
We are taking pre-orders (delivered on the day of competition) for the 2018 Southern Crusade T-shirts.
These T-shirts are designed slightly different every year so are a great keepsake to remember your trip down to the Crusade.
Clean, simple design – one style and one colour
2018 Southern Crusade logo on the front.
The famous Greg Glassman "Fitness in 100 words" quote on the back.
Sizes – small (S) – medium (M) – large (L) – extra large (XL) – and 2 extra large (XXL)
Movement Standards:
Will be released closer to the time, WODs will be released on or nearer to the day.
Judging:
Our head Coach, Ruth Anderson-Horrell will be leading a team of judges and crew for equipment adjustments.
All volunteers registered to help prior to the event will receive a free 2018 Southern Crusade T-shirt.
We will be seeking a couple volunteers from every affiliate that has athletes attending.
All judges are required to have completed the online CrossFit Judging course and will be thoroughly briefed by Ruth.
Food:
We will be selling food for the day.
Check back soon for the order form.
Also, coffee fiends never fear, there will be a coffee available throughout the day so raid your money boxes and bring some extra cash.
Accommodation:
For those that wish to stay the night, our wonderful community members will be taking in billets. This is a fantastic way to meet and get to know the CrossFit community down here. Let us know if you require a bed for the night.
© 2013 CrossFit [INH] Ltd